All items of uniform listed are supplied by the MOD for the specific intention of use by MOD sponsored Sea Cadet Corps units, Royal Marines Cadets and Royal Navy affiliated Sea Scout units.
To access and ​purchase uniform items from this section you must be ​linked to an organisation with approval by the Royal Navy to wear the item or to make the purchase on behalf of someone who is.
You will firstly need to be a registered user in the SCC Shop ​and then your status will need to be verified before authorisation is provided to make uniform purchases from this section. If applying for access to purchase on behalf of someone else as a stores officer/parent/guardian/other, please include your status together with the details given below of the person concerned. If you do not have the necessary details for the individual speak with the unit commanding officer or officer in charge who will be able to help you.
Please login to your account and update 'Customer Address' before sending an email to SCC Shop email address​ (sccstores@ms-sc.org) requesting authorisation and include your Name, Unit name & Westminster Pin Number.
Once your status has been verified you will notified and ​given access to purchase uniform items from this section.
Note - You must be logged into your account to view and purchase items in this section.
Once verified, access will remain active, but only where there has been a purchase from this section within the last 12 months. Accounts which have been inactive for more than 12 months will be deactivated from accessing and purchasing uniform items from this section.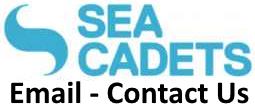 This area is now available for use, but remains under review and subject to change. We hope you find this new and exciting service of use and welcome feedback on your experience using it.
Orders will still be accepted using the Form and sent by mail, together with cheque payments. These orders will continue to be processed using the MoD uniform ordering system and shipping methods.